Subscribing to Online Coaching
Becoming a member of LeBootCamp means putting the best chances of achieving your weight loss goals on your side, with Valerie Orsoni's method and the support of personalized coaching. Complete your free profile, receive your weight loss report, select a subscription option, and in a few minutes you will have joined our community of BootCampers!
Stack the odds in your favor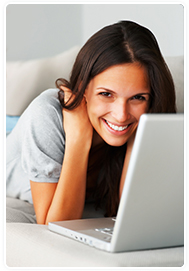 In 2002, Valérie Orsoni went virtual with her coaching service in order to boost the efficiency of her approach to healthy weight loss. Dieting for an average duration of 6 to 9 months can be very challenging and demanding on a daily basis: the isolation, temporary slumps in motivation, doubts, accidental cheats, plateaus, temptations, etc. With LeBootCamp coaching, you stack all the odds in your favor to succeed with your weight loss goals, thanks to individual attention from our dietitians, support of our wider community, personalized answers to all your questions, and hundreds of our balanced, tasty recipes.
*according to a study published in the American Journal of Health Promotion in 2008, weight loss success is 78% greater for dieters that are supported by a coach, and the proportion of actual fat lost was 122% greater than for individuals who weren't getting coached.
Subscribing is easy!
Your decision to achieve your ideal weight with the support of an effective and healthy method has been made. All that's left is for you to subscribe!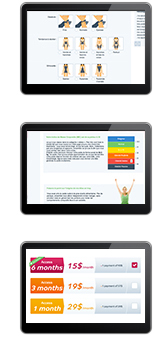 1. Complete your free profile
Complete our detailed assessent along with your weight loss goals so that we can produce your personalized weight loss report.
2. Receive your weight loss report
Once your profile is completed, your weight loss report is immediately produced and sent to you. You'll discover your BMI, your ideal weight, and the steps and various phases you will encounter during your LeBootCamp program.
3. Select your subscription option
We offer several subscription options with varying commitment periods, ranging from 1 to 6 months. Choose the one most suitable to your goals. You will benefit from the same level of personalized service for subscription plan.
Our options:




Choose your payment type (credit, debit card or PayPal) and follow the instructions.
4. Get started with your coaching program!
As soon as you are subscribed you will receive:

Your payment confirmation.


Your welcome email with your login details.


Our first tips.
Your subscription begins the day you subscribe.
If you wish, you can choose a more convenient start day for your program (ie. a weekend or a Monday) by asking your coach via My Questions in your private space. This will allow you to prepare, go shopping and buy your buckwheat flour, kasha or Sobacha!
Good luck for your weight loss program & see you soon on LeBootCamp !