The Booster Phase, Benchmark & Plateau
The Booster phase is your 7 day bonus phase. It is designed to give your body a deep cleanse and get you back on track after a Benchmark and breaking through a plateau. It is also there for you each time you feel the need for a reset. The Booster phase is one of the big innovations in Valerie Orsoni's latest "LeBootCamp Diet" book.
The diet plateau
Who hasn't experienced or heard of the dreaded diet plateau? Weight loss is often erratic: rapid at first, it usually reaches a point of stagnation after a while. The reason for that phenomenon is quite simple: you reduce your calorie intake and increase your expenditure which results in weight loss. Happy with your initial results, you drop your guard and old habits creep back in, a few more treats, a little less exercise, etc., all causing your metabolism to slow down. At this point, you are eating what you burn and you stall, caught on a plateau.
When you get started with LeBootCamp, despite your now healthy lifestyle, regular exercise, better diet and weekly Turbo Detox Day, your body is still exposed to toxins even if it is only toxins of stress and environmental pollution. Weight loss itself generates its own toxins in your system, as you are breaking down the fat cells that house them. This toxic load is also slowing down your weight loss and causing a plateau.
The LeBootCamp Benchmark: the name of the game when you've reached a plateau

Benchmark is a word more commonly encountered in the fields of business, marketing or economics. It indicates a gauge, a reference point for a comparison. In the "LeBootcamp Diet", Valerie Orsoni uses a similar method to help you establish your own reference points: the much talked about and sometimes dreaded plateaus. We are transforming these stages of your weight loss journey into an advantage instead of a hindrance to your weight management.
For each plateau you are creating a new point of reference as your initial "highest weight ever". The point here is to consciously trick your mind into never letting your weight exceed the last plateau, thereby preventing the yo-yo effect. You simultaneously become the master of your plateau by setting a date when it will end, thus avoiding falling into the trap of getting stuck at that weight forever. Once the Benchmark duration is over, do a Booster phase and pick up where you left off with the rest of the program.
Although our philosophy is to learn to embrace plateaus, it is also important to be sure that it is not a result of veering off the LeBootCamp Diet program. To ascertain that this isn't the case for you, check out our short plateau questionnaire in the LeBootCamp Diet book.
Booster: a new phase to reboot and accelerate weight loss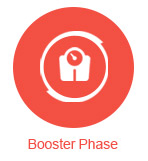 In addition to rebooting weight loss after a Benchmark, the Booster phase helps rapidly achieve a flat tummy. Thanks to its unique menus, this phase has a positive impact on candida growth in the gut. Candida is a yeast naturally present in our intestines and its proliferation is responsible for bloated tummies and and other gassy discomforts. During the Booster phase, you will be implementing our top 10 good habits for a flat tummy.
The Booster phase lasts 7 days and can be repeated as often as necessary, after plateaus or when you have a bloated stomach.