The 4 phases
The LeBootCamp method offers you a weight loss program structured in 4 phases: 3 phases to lose weight and one to stabilize your new weight. Each of the 4 phases, Detox, Attack, Booster and Maintenance, include advice, fitness exercises, specific menus and recipes. The Turbo Detox Day (TDD), exclusive to Valerie Orsoni, reinforces the effectiveness of the method throughout your wellness program.
Your weight loss curve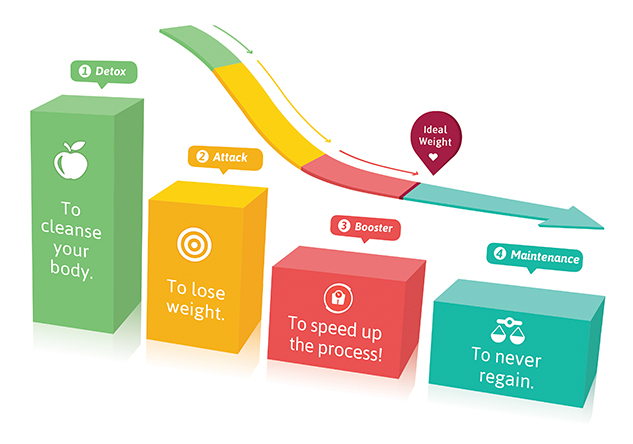 1. DETOX phase: to cleanse your body and lose your first pounds
The foundation of the program. A 2-week phase, where my top 10 detoxifying foods are incorporated into balanced menus designed to nourish your body with antioxidants, eliminate toxins, and give you more energy. We also start integrating physical activity under the guidance of LeBootCamp experts.
What you achieve: The first pounds are shed quickly, energy is regained, skin is glowing.
Key Concept: Detoxification.
2. ATTACK phase: to lose the stubborn pounds

Now that your body has been cleansed and the first few pounds are gone, you are ready to attack the stubborn weight that remains and reduce cellulite. This second phase lasts as long as it takes to lose 75 percent of the weight you need to shed. With my guidance, you will establish healthy life habits and learn how to balance your daily meals. A Turbo Detox Day (TD Day) is featured every week, to promote the elimination of toxins and enhance weight loss. You will gradually integrate new foods and flavors into your diet through delicious, light recipes. During Attack you will find weight loss effective and motivating, allowing you to reach your ideal weight with ease.
What you achieve: Stubborn pounds are targeted, attacked, and eliminated; you lose 75 percent of the weight you want to shed; cellulite is greatly reduced; body is toned.
Key Concept: Glycemic load and its impact on weight loss. Additionally, during this phase I will introduce you to the concept of benchmarking, a strategy that ensures you continue to lose weight as you go along. You'll learn how to transform those dreaded "plateaus" into secure milestones, each one a personal victory.
3. BOOSTER phase: to speed up the process

This enhancing routine lasts 7 days and recurs several times throughout the program. You should repeat it every time you reach the end of a benchmark during the Attack phase or, once you are in the Maintenance phase, whenever you feel the need to renew yourself; for example, after a girls' weekend, after a holiday where the food was plentiful and irresistible, after a period of intense stress at work, or if you are keen to achieve a flatter stomach. This short phase will also help you gain a flat stomach thanks to the latest studies and discoveries in gut health. We will explore how certain foods can increase the level of our candida, thereby leading to bloating and pain. Conversely, we will help you identify which foods can help reduce this problem, thereby helping you get the flat tummy of your dreams. Throughout these short intervals, we abstain from meat, dairy, yeast, gluten, and alcohol in order to truly support the detoxifying functions of our body.
What you achieve: A cleansed body able to lose pounds more quickly, and a flat stomach.
Key Concept: Intense cleansing and the yeast connection.
4. MAINTENANCE phase: to never regain

You will learn how to create balanced menus for yourself as well as handle various life challenges: restaurants, parties, social engagements, traveling, and so on. Once you have shed your final pounds, your weight will naturally stabilize. Physical activity will become an integral part of your daily life as you tone those last few stubborn areas. By then you will know how to avoid nutritional pitfalls and the trap of fad diets. You will be ready to pursue your healthy journey independently and with confidence and will never regain your lost weight!
What you achieve: Your ideal weight is maintained and your energy levels are high. You love your body!
Key Concept: Alkaline-balancing to support a healthy life and keep the pounds off.
The Turbo Detox Day (TDD): the secret energy boosting weapon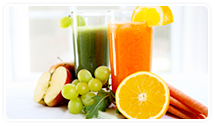 The Turbo Detox is an express cleanse concentrated over a day, designed to boost toxin elimination and reboot your weight loss. Maintain the benefits of the DETOX phase throughout the LeBootCamp program and protect your organism from toxification thanks to the Turbo Detox Day.