Sobacha™
Sobacha™ is a tea made from the infusion of roasted buckwheat (also known as kasha). Reputed for its powerful antioxidant properties, buckwheat tea helps cleanse the body for more effective weight loss as well as supports ideal-weight maintenance. Valerie Orsoni has created her first range of Sobacha™ nutritional supplements, each mindfully crafted to fulfill a specific wellness need based on the LeBootCamp philosophy.
Sobacha™, the ideal healthy slimming tea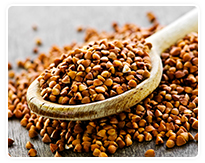 Sobacha™ is rich in vitamins, minerals, protein and digestive fiber. It contains all the essential amino acids which help prevent nutritional deficiencies. Free from gluten, like the buckwheat it is made from, and caffeine-free, it can be enjoyed without limit and at any time of day or night. It's the ideal weight loss tea!
Valerie Orsoni recommends drinking Sobacha™, whether or not you follow her LeBootCamp Diet, as part of any weight loss program, or quite simply in the quest for greater health and wellbeing.
Sobacha™, with its deliciously subtle hazelnut taste, is mostly prepared as a hot tea but can equally be enjoyed as a cold drink, mixed into a smoothie, or added to a soup or stock.
Brewing Sobacha™ is extremely simple, very much like making tea. Infuse a teaspoon or two of roasted buckwheat kernels (kasha) in a cup of hot water for 5-10 minutes. Strain and enjoy with or without a sweetener of your choice: honey, agave nectar, Stevia, etc.
VO Lifestyle Sobacha-C7+ Unidoses
To reinforce the efficacy of the LeBootCamp Diet, VO Lifestyle offers an innovative range of Sobacha-C7+ based nutritional supplements. Sobacha-C7+ is an exclusive VO Lifestyle formulation of concentrated Sobacha™ liquid extract enhanced with essential trace elements. A genuine bonus to your health and wellbeing! Find out more at our VOLifestyle.com boutiuqe.
Sobacha™ or Soba-cha is a Valerie Orsoni registered trademark.