Recipes
The LeBootCamp program offers new balanced and gourmet recipes every day of the program. These were all created by Valerie Orsoni and her team of dietitians in accordance with the specific nutrition rules of each program phase and our signature gourmet style. Over 500 recipes are available.
Balanced gourmet recipes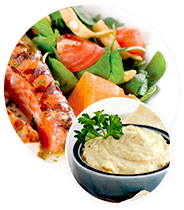 You will find all of our recipes in your private space as you move through the various phases of your weight loss coaching program. Simply click on the "Recipes" tab and categorize by week or alphabetical order so that you can easily search for your favorites.
We offer you recipes for every meal, keep them varied, easy and quick to prepare while simultaneously introducing you to new ingredients and flavors. Each recipe includes number of servings, preparation and/or cooking time, ingredients, and step-by-step cooking instructions.
What if I don't like certain ingredients, or a particular recipe?
The menus we offer in the program are suggestions to show you that it is possible to eat healthy and enjoy your meals at the same time. If a particular food doesn't work for you whether due to affordability, availability, your taste, or dietary restrictions, we will guide you in finding an adequate replacement based on your criteria.
Want a new recipe for a specific dish?
Don't hesitate to ask! Our dietitians will be delighted to create a new recipe to add to our program.