Valerie's Books
In 2015, Valérie Orsoni fully refreshed her weight loss method in a brand new book published by the Penguin Group: "LeBootcamp Diet: The Scientifically-Proven French Method to Eat Well, Lose Weight, and Keep it Off For Good". With Valérie's signature healthy and natural approach, the revamped LeBootCamp consolidates the many improvements brought to the program over the past years, as well as the latest innovations in nutrition and well-being.
LeBootCamp Diet : Valerie Orsoni's new book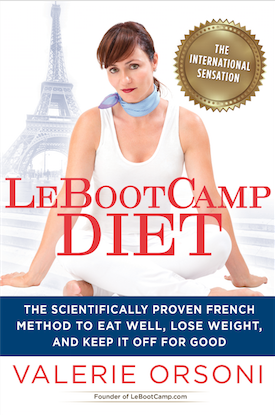 LeBootCamp Diet is structured in four new phases: Detox, Attack, Booster and Maintenance. These 4 phases rest on 4 essential pillars: nutrition, easy fitness, motivation, and sleep & stress management. Each of the 4 phases progressively integrates the 4 scientific principles of the LeBootCamp Diet: detoxification, glycemic control stabilization, pH balance and no forbidden foods. Valerie Orsoni also introduces new concepts with a novel approach, including Benchmarking, Plateaus, and more.
LeBootCamp Diet comes with dozens of original recipes and easy fitness exercises. The book is available in local bookstores and on Amazon.com.

Other books by Valérie Orsoni:
Valérie Orsoni is the bestselling author of more than 12 other weight loss and wellness books in French, English, Italian and Serbian, including a her chart-topping publication, "La Methode Orsoni". In her books, Valerie Orsoni details her healthy weight loss approach, accompanied by hundreds of delicious recipes to put the pleasure of eating back into losing weight. Valerie Orsoni's books are the ideal complement to LeBootcamp coaching.